COLLA celebrates its 30th Anniversary!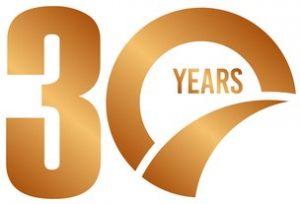 The year 2022 has become an important turning point in the history of COLLA, Ltd. We are primarily known as the authorized reseller of Mastercam CAD/CAM system. Exactly 30 years ago our company was founded in Riga and we must admit that throughout this eventful time I and my colleagues have never had a desire to leave the work we started. For 30 years we cared for our customers' well-being as well as our company's reputation and prosperity.
Persistent and active promotion of Mastercam in the local CAM market, in industry and vocational education stands out in the list of main good deeds and achievements of COLLA during 30 years of its activity as a natural continuation of our efforts in introducing Mastercam along with its related brands (CIMCO, Robotmaster, etc.) in our territories.
However, the recognition and success of Mastercam in the local CAM market was facilitated not only by the efforts of COLLA personnel, but also by the high consumer qualities of the product, its well-developed functionality, versatility, user-friendly interface and reasonable price. The emphasis on providing Mastercam users with high-quality technical support has not weakened throughout the 30 years of the company's activity.
The role of our regional partners and dealers in promoting Mastercam in local markets should also be accentuated. They are primarily the suppliers of CNC machines, robots and tools, representing the following brands: DMG MORI, HAAS, DN Solutions (Doosan), OKUMA, Yaskawa Motoman, Sandvik Coromant, Seco Tools and others.
In 2015, COLLA became a regional partner of WorldSkills and an official supplier of Mastercam to educational institutions participating in this competition of young professionals (CNC Milling, CNC Turning competencies).
This circumstance contributed to a fundamental change in position of our company both in the international Mastercam sales channel and in the CAM market of the territories we serve. In 2016 COLLA took the 1st place among the best European Mastercam resellers to the education sector, maintaining this leading position until 2022.
The fact that in our territory nearly 500 companies and educational institutions in general have two thousand of active Mastercam CAD/CAM licenses inspires us and gives confidence for the future.
Among other things, the great good deeds of our company include many years of creative, technical and financial support for the PLM magazine "CAD/CAM/CAE Observer" founded by me back in 2000. Over the past 20 years it has adorned our business like a diamond in the crown.
On the occasion of the 30th anniversary of COLLA we express our sincere gratitude to CNC Software/Mastercam and all our partners for many years of fruitful cooperation. We are also grateful to all Mastercam users in the territory we serve for their commitment to Mastercam and loyalty to COLLA – the supplier and implementer of this wonderful CAM/CAD system.
Youri Soukhanov
Chairman of the Board
COLLA, Ltd
COLLA celebrates 25th anniversary with Mastercam!
Latvian company COLLA supplies Mastercam CAD/CAM system for programming of CNC machines and machining centers of any complexity, as well as Robotmaster CAM system for offline programming of industrial robotic arms. Individual products, systems and solutions supplied by the company under CIMCO brand, in particular, complex postprocessors, NC code editors and simulators, as well as components of DNC systems and CNC equipment monitoring systems, are also in constant demand. An important place in the company's portfolio of solutions is held by electrical CAD system PC|SCHEMATIC.
COLLA is an authorized distributor or reseller of these products and systems. The company's specialists provide a full range of services for implementation, mastering, effective use of the software, as well as consulting, training (including up to WorldSkills standards), development of postprocessors and technical support.
COLLA Ltd. is a private company founded in 1992 by leading specialists of the State Enterprise for the Development and Production of Software Products and Systems VEFint, originating from the CAD/CAM department of VEF (Valsts elektrotehniskā fabrika / State Electrotechnical Factory) – a manufacturer of electrical and electronic products in Riga, Latvia. Company Baltic PLM Solutions, which specializes exclusively in software products and solutions from Siemens, has been a subsidiary of COLLA Group since 2004. In 2000 COLLA established the popular PLM-industry magazine CAD/CAM/CAE Observer.